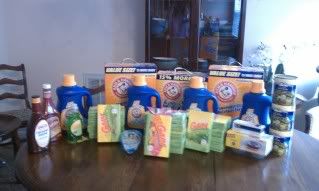 Okay, so you know how I mentioned that Walmart has changed their policy to let the customer keep the overage from coupons. Well, my trip today is a good example of how that can work out awesomely. This is the best I have ever done on a shopping trip and I expect it will stay that way awhile. (NO, I did not clear any shelves. I left plenty product behind. Yes, I plan on sharing some of this...at least maybe with people who do not make fun of me for this purchase!)
This is what I purchased:
(3) 28 oz cans of Allen's Green Beans @ $2/each
(1) 42 oz bottle of Kraft BBQ sauce @ $2.42
(1) 44 oz bottle of Hunts Ketchup @ 1.72
(1) 8 count package of Glad reusable/disposable snack size containers @ $2.28
(1) KY jelly (S has GI issues and this comes in handy - she can "hate" me later for telling you that) @ $2.74
(1) 3 ct package of Bic Soleil Bella Razors @ $5.77
(3) Revlon Fingernail Clippers @ $1.96 (these are always disappearing around the house..so I like to keep a few put up)
(1) 11 oz bottle Gain Diswahing Liquid @ .97
(4) 64 load bottles of Arm and Hammer OxiClean liquid Laundry Detergent @ $7.97/each
(2) 145 load boxes of Arm and Hammer Alpine Fresh Powder detergent @ 12.47 each
(1) 110 load box of Arm and Hammer Oxi Clean Powder detergent @ 12.47
(10) 40 ct Gain Dryer Sheets Original Scent @ 1.87 each
(10) 40 ct Gain Dryer Sheets Island Fresh Scent @ 1.87 each
Coupons I Used:
(20) $3/1 Gain Coupons (they were in the Sunday paper at some point..but I got the large number from a coupon service on ebay. I paid some - but it was much less than I even made in overage from the coupons)
(7) Free A&H laundry detergent up to $13.99 value. (was a manufacturer coupon but I purchased it again from eBay..for over $100 less than the value of the coupons)
(1) .75/1 Kraft BBQ (Sunday paper a couple of weeks ago)
(1) $2/1 Bic Razors (3/27 Sunday Paper)
(1) $2/1 KY Jelly (3/27 Sunday paper)
(1) $1/1 Gain dish detergent (P&G coupon book - if you go to their website and request one they will mail you one - it has lots of good coupons)
(3) $2/1 Revlon Beauty Tools (Internet printable coupon. I think I got it from Target's website, but it is a manufacturer coupon)
The total price of the products before coupons: $134.81

Total after coupons = $22.57 OVERAGE! I then paid $11.50 in tax out of the overage, so they handed me $10.28 cents back!!!!