First Day of School
Somehow, that tiny little baby I held back in the Summer of 2004, my first child, is now in second grade. That just seems so big to me. It just amazes me that she is this old. People who told me it would fly by are right..it has flown by. She is growing into such a wonderful young lady..I am proud of her, but sometimes I miss that tiny baby that did not seem to know babies are supposed to sleep (well, that is one thing that has not changed - she still thinks sleep is highly overrated).
She attends a local private Christian school. We really love it there. There are small class sizes and the teachers are all great. Also, I love the focus the school puts on Christian living. I am so happy she is able to have this "extra" instruction. I feel safe leaving her there. I never really did when I left her at a public school (not that there is anything wrong with public school usually - that is just a long story).
Here are some pictures of her in her uniform on the first day of school: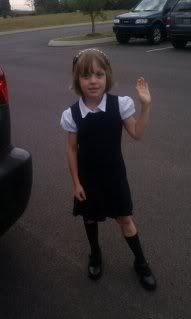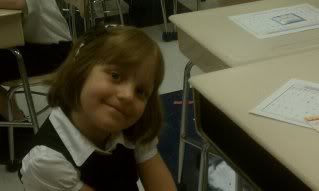 P
arent/Teacher Conference
On the 3rd day of school I had a conference with her teacher. I would have requested one anyway, but the school decided to have teachers have Week 1/2 conferences with all the parents in order for the teachers to get a better basic understanding of the kids in their class. I think that is such a wonderful idea!
This is what I found out about Savannah:
Her math skills are off the chart. She is very good at math.
Her reading level test was not finished, but she was already at the 3rd grade level and still climbing. This means she has passed the A to Z leveled readers and will be doing chapter books instead.
Her comprehension skills are also testing high.
Her weak areas are spelling and handwriting. We will work on these. I was always good at spelling. I was one of the first kids picked if you were having a team spelling contest in school, but my husband said spelling was one of his weaker subjects (meaning yeah sometimes he missed ONE). That is okay though..spelling we can work on. She is still around 50%, so it is not like she just CANNOT do it. Handwriting she may always struggle with. People with NF1 often have trouble with their handwriting (this will be mentioned in more than one of the links I will have at the end of this section of the post). I think she can do it if she puts her mind to it.
I also made 2 packets about Savannah. I gave one to the office and one to her teacher. I collected and wrote some information about Savannah and put it in a 3 prong folder with dividers. I also included a calendar of all the days she would miss due to treatments, therapies, and doctors appointments this month. I will send a new calendar every month.
1st Section
- Information I wrote about Savannah - her likes and dislikes, things that work and things that do not as far as discipline goes, her reactions to certain stimuli, things to monitor in regards to the mass in her brain, etc.
2nd Section
- NF1 information
Educating the NF Child
About NF
About NF1
Third Section
Information about ADHD
ADHD Education
Educating the child with ADHD
Fourth Section
Information about Sensory Processing Disorder
Sensory Processing Disorder
Educating the Child with SPD

Fifth Section
This was just a section on all the medications she is taking plus a print out on what they are,possible side effects, and what sudden side effects warrant immediate attention.
Outlook for the Year
I have a very positive outlook for this year. The teacher is very hands on and Savannah loves that and will thrive in that environment. I think as far as school goes this will be a great year! I just pray that her health holds out and she is able to enjoy the year fully!