When we were at St Jude I was very nervous, so there are not a lot of pictures. I will take more the next time.
It is really a wonderful place. They are so good to the children and the families. Everywhere you turn there is someone wanting to give the kids something or play with them. They have people in all the waiting rooms doing craft projects with the kids or playing games with them. Every office they see has a treasure box. There are teenagers that come around with a cart called the "Happy Cart" and they give small gifts (like crayons and a coloring book) to the kids. They also have other things they give the children to make what even an adult would consider a "bad day" (full of tests and everyone being right in your face) a little bit (make that a lot) brighter. While she was there they had a "Pajama Party". All of the kids got a pillow case, a blanket, and a pair of pajamas(This was hosted by the teens I told you about earlier).
It really is a happy place, especially considering what all is going on there. I must say that you can really feel the presence of God there. He is watching over those precious children.
Here are some of the pictures:
Savannah doing a craft while she waits on an appointment: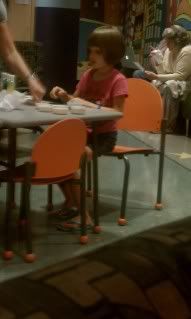 Savannah waiting in a room for her doctor: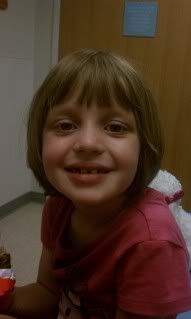 Waiting on another appointment, this time with the help of "Poodle Friend". We got it for her when we were told we needed to see a neuro oncologist. She was scared and this little friend helped her.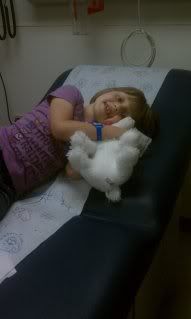 Savannah - "Poodle Friend and Hannah Montana stickers help me not be scared of the doctor..but I still do not like pokies (shots/needles/etc)."